Christian Singles Only: The Best Dating Service For You Is Right Here

Many singles turn to Christian online dating sites in their search for a soulmate. Online dating has been around since the late 1990s but has really taken off in the last five years as online dating services have become more socially accepted, especially for Christian singles.
So how does Christian online dating really work? With online dating, you will typically go create a profile for free at one of the thousands of online dating websites currently in existence. To meet other singles, you will need to pull out your credit card and purchase a membership because you cannot contact other members without opting in to pay. It is typically very affordable, especially if you meet someone compatible.
You can generally bucket online dating sites into two buckets – mass market online dating sites that serve all people and niche online dating services that only focus on small segments of the population, such as Christian Singles. There are literally thousands of specialty sites out there serving everyone from vegetarians to dog lovers to Conservatives and everything in between. Choosing the best dating site is challenging at best because all it takes is that one special someone and you do not which of the thousands on dating services your soulmate may be on, if at all. Maybe they are on a Christian focused dating site or maybe they are on a mass market dating service like Match.com. You just don't know.
The biggest positive with online dating is that it is great to meet a lot of other single Christians you might not normally meet on your own. You can literally see Christian singles from around the country. With a few emails and a lot of luck, you can literally meet your soulmate for life and online dating leads to tens of thousands of marriages every year.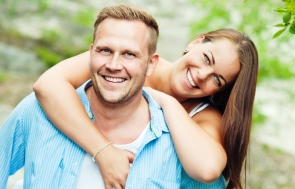 The biggest negative is that online dating can take a lot of work. For example, a study by the Harvard Business School revealed that it takes 7 hours of upfront work on online dating sites (emailing, reviewing profiles, etc) to lead to one hour of actual dating. That is an incredible amount of work considering that many first dates with online dating do not lead to second dates due to over 90% of people lying in some form or fashion with their online dating profile. A lot of people simply don't want to spend that much time with online dating, especially when they would rather be spending time with friends and family, spending time in bible study, or going to church. Another big negative is the lack of personal background checks leading people to feel unsafe. The frustration with online dating causes many people, if not most people to quit after three to four months of using service. We think online dating can work for many Christian singles and that many people quit too early because of unrealistic expectations, but you should be prepared for some frustration with online dating services, whether they are Christian online dating sites or not.
Luckily, there is a great alternative to online dating and that is working with a local dating service and/or matchmaking service. At Christian Singles Only, we have formed partnerships with some of the leading personalized dating services around the country. They are experts at helping Christian Singles like you meet their soulmates and collectively they have led to countless numbers of marriages.
There are many advantages of working with our local dating partners:
They meet with everyone in person to verify that you will be meeting real people
They do all the work for you so you don't have to do is start dating interesting Christian singles
They perform background checks to verify that you will be meeting people that appear safe to date and appear to be truly single based on their background check
Everyone you will meet is commitment minded and ultimately looking for a longer term relationship.
They conduct compatibility testing to measure and match you on your level of religious conviction amongst other things
They will get to know you on a personal level and be with you every step of the way in your search for your soulmate.
In short, our dating partners can offer you a level of service that is far more thorough and far more successful than what you might experience with typical online dating sites for Christians.
Our dating partners can unfortunately not work with everyone. So take a minute to fill out our profile to see if you qualify for their services. If not, we will refer you to one of our recommended online dating partners that have great dating sites for single Christians.
So if you are ready to meet your Christian soulmate, take a few minutes to complete our online profile to find the best Christian Dating Service for you.
Remember, God wants you to meet someone special. Let us put the two of you together. Get started today!