Meet Sincere Christian Singles …
You're probably meeting people, but they're just not the right types for you. Maybe you've even been dating some nice people, but you know something vital is missing. Either they do not share your Christian faith on the same level as you or something else is not working in the relationship. Maybe it is a different set of hobbies and interests. Or maybe your schedules and career situations simply do not match. Whatever it is, you know this person is not or was not the person that God wants you to be with. You are very much aware that meeting that one special someone who also shares your Christian ideals can be hard. You might even feel discouraged or lonely sometimes after another relationship gone awry.
But, there's no reason to give up hope. We have some good news for you! It's really not that hard if you start looking in the right place. You can begin to meet the right type of people, Christians who are like-minded in your faith and have the
interests and views on life you are seeking. However, until you do take the initial step to start meeting Christian singles that share your background and interests, you will never achieve your ultimate goal of having the loving relationship
you want. You will ALSO be laying a faith-filled foundation for achieving your long-time goal of having a truly loving Christ-centered relationship.
It's clear to both of us that you are looking for more than just a nice relationship. You want a mature and committed lifetime relationship. Your ultimate goal is marriage or a serious relationship with someone who shares your Christian ideals.
When you meet your true soulmate, your entire life will change…FOREVER!
Remember: God WANTS you to find your true love!
Here's the best part: You can take that first step to change your life today!
Let's be honest. You're visiting Christian Singles Only because you know you need to make a change. What you're doing on your own just isn't working. You may have tried Christian singles events, Christian Speed Dating, or Christian Singles Cruises and you are not getting the results you are seeking. While changing around familiar patterns can be a little bit intimidating, let's take a minute to talk about making a change in your routine. Albert Einstein had a saying, "The definition of 'insanity' is doing the same thing over and over again and expecting a different result."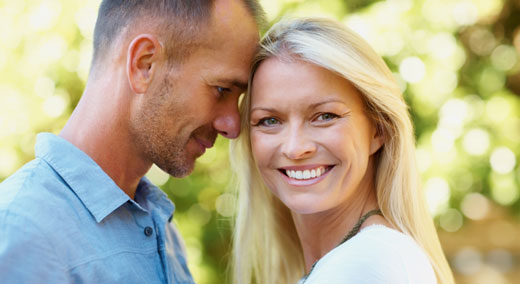 Now, we're not saying you are insane …. But wouldn't you agree it's a little bit crazy for anyone to keep repeating the same things like a broken record when they aren't giving you the results you want? Well, you're absolutely not alone in not achieving the relationship that you deserve. The old traditional ways people are trying to meet simply don't work in today's dating scene. Did you know the divorce rate is an astounding almost 50%?? (Now we'd call that insane… and extremely sad, too.) We're positive that wasn't in God's original plan. As far as the other 50% who do stay together, have you ever wondered how many of them have quality and fulfilling relationships? Are they in the loving relationship they dreamed of having? Probably not too many.
Sometimes people stay with one another in so-so relationships that aren't so satisfying because of financial reasons, religious beliefs, for the sake of the children, or maybe it's just more convenient than the alternative. Their relationships are lacking any passion and true love. It may appear to outsiders they get along fairly well, but underneath the surface they are unhappy and miserable. They're just going through the motions. There's a missing link: Compatibility and passion! And you and I both know there's a huge difference in a relationship when you are compatible and see eye-to-eye on most issues, plus having genuine passion for each other. Life in general is so much more fun and enjoyable when these characteristics are present. Otherwise, you are constantly bickering and have a lackluster ho-hum existence, not an exciting, romantic relationship.
Unfortunately, many people don't know what to do when it comes to finding someone they are truly compatible with. You've probably heard the old saying, "opposites attract?" Well, no one can argue with that fact. People are drawn like magnets to the challenge of being attracted to someone who is poles apart from their likes and beliefs. However, many of those relationships aren't destined to last for very long! When opposites first get together they can be thrilled by the excitement of the challenge to start with, but they usually wind up having big up and down swings. You eventually end up feeling like you're on a roller coaster ride or in a real clash of the Titans. They are so incompatible they end up making each other outright miserable. You don't have to go through that any more. You can get different results! You can meet someone compatible who shares your Christian values and experience the exciting relationship you've been praying would happen. It can come true for you!
That's where Christian Singles Only comes in!
You Can Use Our Almost 30 Years of Relationship Expertise and Industry Associations To Get You The Successful Relationship You Deserve
The ways people meet and date today is far different than they did even 10 years ago. There has been a virtual explosion of Internet dating sites, even Christian dating websites, popping up all over the web. Thousands of dating websites are out there trying to get you connected with the millions of other singles who are looking for that special relationship.
It's too bad, but many of these online dating sites are just looking to connect casual daters and that's where their focus is. They have absolutely no clue as to what makes a faith-filled relationship work. Their web page designs may look good, but they simply do not have the basic foundation or experience regarding the integral components of introducing compatible singles so they can have a successful Christ-centered relationship.
We Know The Intricacies of Dating and Relationships
At Christian Singles Only, our dedicated leadership has been achieving great success by matching singles for almost 30 years. Since 1982, our results-oriented team has been directly involved with thousands of successful meetings, matches and marriages, both in the United States and in Canada. We're extremely proud of having introduced thousands of great Christian singles who would never have been matched with each other without our enthusiastic staff who are passionate about their job and who truly believe they are helping with God's plan to bring those two hearts together.
We are thrilled when we receive a letter from an ecstatic couple who are sharing their joy and happiness over finding their true love thanks to our making an introduction. Then, when we find a wedding invitation in the mail from a joyous couple, that really makes us excited! The only thing that tops wedding invitations is receiving baby pictures from the happy new parents. Wow, we absolutely love those baby pix! By now, we're also pretty certain there are some grandchildren out there! You can't do any better than that! That whole cycle just reinforces our strong belief that we can make a positive difference in the world by doing our job right.
You can be successful, too!
It's pretty easy! We are clearly aware that no two people on this earth are exactly alike and no one dating service is the right one for every person. For that reason, we've assembled a specialized team of partners in the industry throughout North America that can fulfill your individual and unique requirements based on your Christian beliefs and principles, where you reside and the criteria that you are seeking in a relationship. But, for us to be successful and help find you your special soulmate, we need your participation! Your first step is to take a leap of faith and give us your name. It's that easy!
Clearly, the choice is up to you. You can decide whether or not you want to give us your contact information, but it's a positive step you should choose if you really want your prayers answered and let us introduce you to the love of your life. Our proven system can truly help you meet the right person for you, the ones who are in demand and often are so hard to find. Remember: The true love you are praying to meet is waiting to meet you. We're not just about getting you a date or pushing you into a committed relationship. Christian Singles Only has one goal in mind: That is to help you …
Find The Loving Relationship You've Always Wanted!
You don't have to keep praying for a miracle that you somehow accidentally run into your perfect match. You can choose to take an action step NOW to ensure yourself you are doing all you can for the opportunity to meet the perfect person your heart is longing for and which you truly deserve. Just fill out the form above. We'll take it from there to get you headed in the right direction based on your Christian beliefs and principles, where you reside and the qualities you are seeking in an ideal relationship. The form is very simple to fill out. We will then connect you with a relationship specialist in your local area who we think can best fulfill your dating criteria, and we'll
set up a one-on-one free consultation about Christian Matchmaking Services.
Receive Your FREE Matchmaking Consultation!
Yes, it's absolutely free. You are under no obligation. There aren't any hidden agendas. Christian Singles Only simply wants to show you how to discover ways you can find your soulmate and love of your life if you start meeting the right types of people who share your Christian ideals. Finding the right person can change your life forever! First, we will contact you with a FREE telephone call. During the call a relationship specialist will ask about you and the qualities you're looking for in your ideal Christian mate to determine if they can find you the type of person you are looking for. Most of us go a whole lifetime just hoping and dreaming about meeting the perfect partner. Do something positive for yourself today. God does not intend for you to be alone! He made them, male and female. He saw it was not good for man or woman to be alone. Life is too short. There is someone special out there just waiting to meet YOU! The Next Step is So Simple. It only takes a few minutes to take this first step towards finding that right person for you. Don't risk leaving romance to a chance meeting and getting left behind. Take a small leap of faith. Believe! You can have the loving Christian relationship you deserve so much that God wants you to have. Fill out this simple form NOW!